Summer Camps and Workshops 2023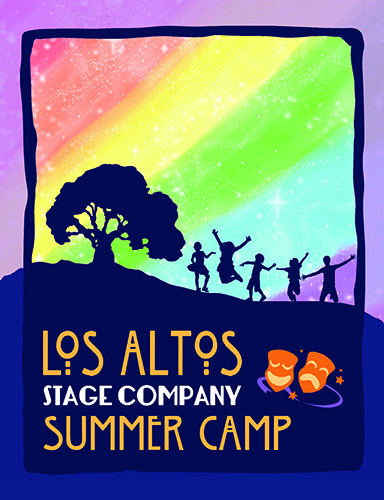 Experience the magic of theatre at Los Altos Stage Company! From day camps in singing, dancing, and acting, to Master Classes in stage combat and makeup, to rehearsing and performing a show, LASC has it all. Explore our offerings, sign up for one or more, and join us this summer for all the excitement theatre has to offer!
My Father's Dragon

Create a show from the ground up with this amazing three-week camp. Based on the beloved children's book by Ruth Stiles Gannett, this play follows Elmer as he travels to Wild Island, outwits the animals, and rescues a captive dragon. Participants will not only perform in the play, they will also design and build sets, props, and costumes. Learn all about the ins and outs of putting on a show and the creativity, collaboration, and fun that goes into making magic happen on stage!
Dates: June 12th thru June 30th
Time: 10:00am – 4:00pm
Ages: 8-11
Fee: $750
June Master Class Series: Stage Combat
Learn to realistically fall, slap, kick, pull hair, and throw punches safely in this one-day only Master Class. Participants will learn the basics of stage combat, both hand-to-hand and swordplay, and how to work together to choreograph effective onstage fights. This class is highly physical, so come dressed to move!
Date: June 17th
Time: 10:00-5:00
Ages: 13-18
Fee: $250
Disney's The Little Mermaid JR. 
Join us to rehearse and perform this familiar tale in only three weeks! Journey "under the sea" with Ariel and her aquatic friends in Disney's The Little Mermaid JR., adapted from Disney's Broadway production and the motion picture (featuring the enormously popular Academy Award-winning music and delightfully charming book and lyrics). Based on one of Hans Christian Andersen's most beloved stories, Disney's The Little Mermaid JR. is an enchanting look at the sacrifices we all make for love and acceptance.
Dates: July 10th-July 28th
Time: 10:00am – 4:00pm
Ages: 6-12
Fee: $750
July Master Class Series: Stage Makeup
Bring your face paints and brushes and learn all about stage makeup! From basic corrective to old age, from bruises to full fantasy, this class will have you transforming yourself. We'll even bring in a professional special effects designer to teach you how to make your own prosthetics!
Date: July 15th
Time: 10:00am – 5:00pm
Ages: 13-18
Fee: $250
Imagination Playhouse
Play with us for a week of creative dramatics, improvisation, and storytelling! Learn theatre games, how to create fun characters, and make stories come to life. This week-long camp is the perfect introduction for budding thespians!
Dates: July 31st – August 4th
Time: 10:00am -1:00pm
Ages: 6-8
Fee: $300
All camps are taught by teams of highly-experienced, adult artist/teachers. Artist/Teacher bios will be posted by April 2023
For questions or information please contact the LASC Education Director Kristin Walter at kristin@losaltosstage.org
LASC Summer Camp Cancellation Policy
If enrollment is cancelled before April 30 there will be a $10.00 processing fee. Enrollment cancelled between May 1 and June 1 will be subject to a $50.00 processing fee. There will be no refund after June 1. A $10.00 transfer fee will apply to switching sessions.
Mail: PO Box 151, Los Altos, CA 94023
Theater: 97 Hillview Ave., Los Altos