Director Jeffrey Lo on Yellow Face
There are many reasons to produce Yellow Face. One – it's a great play. Two – it's funny. Three – producing the play is, in and of itself, a statement (and an important statement). When you take the time to dissect the David Henry Hwang's play it is stunning to see just how many levels Hwang's script works at.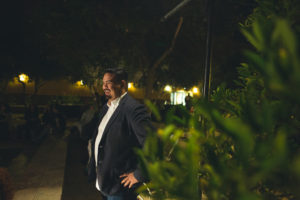 We start with the cast that he puts forth on stage. By design, the script calls for an ensemble of actors – many Asian American, some not – to play a variety of different roles spanning from the comedic to the downright scary. In a show where one of the primary themes is the troubling representation of Asian Americans in the media, Hwang uses the performance of the play as an opportunity to showcase a group of talented Asian American actors who, in fact, can play roles bigger than the caricatured villains and take-out delivery boys they are traditionally told to play.
Next Hwang takes the role of Marcus, a Caucasian man whose career skyrockets when he is inadvertently cast in a lead Asian American role. In a world where issues of race were simple and clear cut, this actor would be an easy villain. Hwang knows that in the real world race is not simple or clear cut and in turn gives us a well meaning Caucasian man who loves and believes in the community he finds himself representing.
Even with all of this, Hwang takes it a step further. Yellow Face is his most personal play and as things continue to spiral out of control for the Hwang's "semi" autobiographical character – the play becomes a story about a father and a son. A simple relationship that, regardless of race, ethnicity or economic status, any human can understand. In turning the lens on himself and portraying himself at his most human, Hwang gives the Asian American community the chance to represent themselves in a way that they so rarely get the opportunity to – as humans.
It has been a great honor to work on Yellow Face and the process of putting together this production has meant so much to me. We have an amazing cast of actors that put their big hearts on the Bus Barn stage to bring this hilarious, heartfelt and powerful story to life.